The Modesto Peace/Life Center's projects include:
•  KCBP community radio station
• A family Peace Camp held every year in the Sierras
• The Annual Peace Essay Contest for which essays are written and submitted by Stanislaus County school children
• The Homeless ID Project
• A Media committee which produces videos on important local issues.
• A monthly Peace & Justice Vigil on the first Wednesday from 4:30 to 5:30 PM at McHenry & J Sts., Modesto
• The yearly Harvest Gathering dinner to benefit the Peace Essay Contest
• The peace and justice newspaper, Stanislaus Connections
• The Annual Martin Luther King, Jr. Commemoration co-sponsored by the City of Modesto Neighborhoods and Recreation Department, Modesto Junior College, Associated Students of Modesto Junior College, CSU Stanislaus, and others
• An Annual Pancake Breakfast held in June
• The Annual John McCutcheon Concert in January
• A monthly movie night
• Various lectures, marches, vigils
For further information about our projects and activities, call the Center (209-529-5750), or email James Costello at
---
More on Modesto Peace/Life Center projects and events
Peace Essay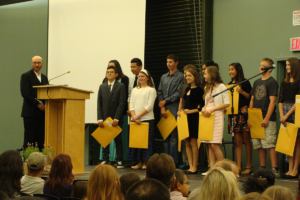 Each year since 1987, the Modesto Peace/Life Center has sponsored the Peace Essay Contest, open to 5th-12th grade students who live or attend school in Stanislaus County. Students write an essay in response to a question, carefully crafted anew each year, and the winners in four divisions are awarded prizes in a public ceremony. Over 1000 students from throughout the county entered the contest this year. They wrote essays in response to a question that began, "Imagine that you suddenly have the power to put into action a non-violent plan to bring about a more peaceful future that includes respect and fairness for all…."
If you would like to learn more about the Peace Essay Contest, contact
Peace Camp
Each year, the Modesto Peace/Life Center organizes a Peace Camp held in June at Camp Peaceful Pines in the Sierras. The weekend offers workshops, hiking, campfires, singing, a talent show, children's activities, and thought-provoking speakers. Join us for great discussions, stimulating community, and fun for people of all ages.
Media Committee
The Media Committee meets periodically to develop projects. If you have ideas for social justice videos or computer skills in film-making, editing and/ or writing and would like to be involved, call at the Center at (209) 529-5750.
Social Justice Youth Leadership Conference (inactive)
The first annual Social Justice Youth Leadership Conference was held in the fall of 2009 and was attended by 60 area high school students. The keynote speaker was Bonnie Kay, a representative of the international organization Free the Children. Free the Children built a school in the rural village of San Miguel, Ecuador, this last year with funds ($10,000) earned through fundraising efforts by area students. The Conference also allowed over a dozen area organizations such as the NAACP, PFLAG, Sierra Club, Tuolumne River Trust, and the ACLU to explain how area youth can be involved in their endeavors.
Vigils
The Modesto Peace/Life Center has a vigil the first Wednesday of the month at McHenry Ave. and J St. ("Five Points"). The times are variable. Please check the Calendar for current times. The latest videos can be found on Vimeo.