38th Annual Peace Camp • June 26-28, 2020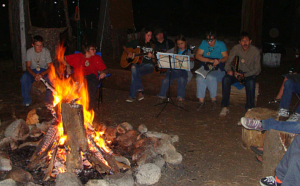 Cancelled for 2020, due to coronavirus concerns.
The Modesto Peace/Life Center's 38th Annual Peace Camp in the Sierras will take place on June 26-28, 2020 at Camp Peaceful Pines. We'll enjoy a weekend of workshops, good food, singing, drum circle, crafts, talent show, recreation, and stimulating people of all ages in a beautiful mountain setting. Families and individuals are welcome. Register early for a discount.
Leng Power will present the Saturday workshop "Joy: The Secret Sauce of Self-Renewal and Community Transformation." "If I can't dance, I don't want to be in your revolution." — Emma Goldman, Russian Feminist Activist.
Leng will explore the work of social movements that use centered-joy and lightheartedness as a subversive and effective strategy to create collective resiliency. Participants will learn practical ways in which joy can be incorporated into their lives as a critical component towards building a resistance to fear and despair. This workshop will incorporate movement of body and breathing exercises.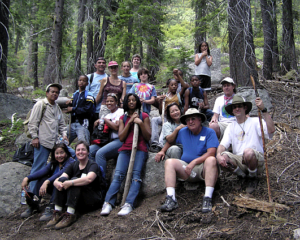 Leng is a mindfulness practitioner and draws upon her experience as an American Leadership Forum Senior Fellow as well as her time with the Modesto Peace/Life Center.
Camp Peaceful Pines, on Clark Fork Road off Hwy. 108 in the Stanislaus National Forest, is the venue for Peace Camp. In 2018, the Donnell Fire burned much of the surrounding area but the Camp itself remains intact and is still a place of beauty and tranquility surrounded by Mother Nature's continuing restoration.
Camp Peaceful Pines features a kitchen and bathroom facilities, rustic cabins and platform tents and a cabin for those with special needs. Depending on the number of campers, cabins may be shared. Campers share in meal preparation, cleanup, and other work.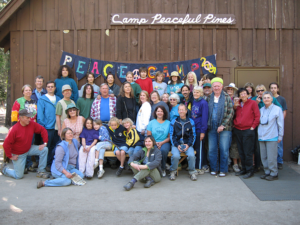 The camp fee covers the program, food and lodging for the weekend. Adults are $75 before May 1st, $85 before June 4 and $95 after June 4. Young people, 18 and under, are $55 before May 1st, $60 before June 4 and $65 after June 4. Ages 3 and under free. Minors under 18 need to be accompanied by an adult. Partial scholarships and day rates are also available. Donations for scholarships are appreciated. The camp opens with supper at 6:00pm on Friday and closes after the morning gathering on Sunday. Directions and other information will be provided to participants before camp. Registration forms are available online at www.stanislausconnections.org and www.peacelifecenter.org to download and mail. The online registration payment option can be done by searching for Peace Camp 2020 at www.brownpapertickets.com. There will be a wait list if registration becomes full.
Information: Marian McBride-Luman, 209-765-0640,