The Modesto Peace/Life Center's 36th Annual Peace Camp in the Sierra will take place on June 22-24 at Camp Peaceful Pines on Clark Fork Rd. off Hwy 108 east of Pinecrest. We'll enjoy a weekend of workshops, good food, hikes, campfires, singing, crafts, talent show, recreation, and stimulating people of all ages in a beautiful mountain setting. Families and individuals are welcome. Register early for a discount.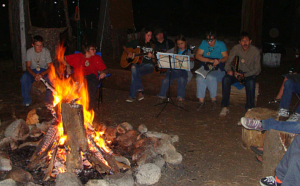 This year Leng Nou will present the workshop, "Cultivating Personal Resilience and Embracing Joy." The workshop's aim is to inform participants on ways to integrate our internal state to align with external aspirations in a way that maximizes energy levels and alleviates burn out. We will build on the work of social psychology in the areas of gratitude and joy. We will learn practices that will build resilience as well as develop happiness heart habits. Leng Nou is a mindfulness and tai chi practitioner with heartfelt interest in the art of slowing down. Leng is a member of the Modesto Peace/Life Center and works to bring peace to all forms of encounter. Leng is also a Senior Fellow of the American Leadership Forum which seeks to unite and strengthen diverse leaders to serve the common good.
Our second workshop will be a conversation among long-time activists and young activists sharing values, experiences and questions with each other.
Timothy Land is a senior at Modesto High School, where he is president of Project Hope, a group that has raised $60,000 for a school and a health center in Ecuador. Polet Hernandez is a student at CSU Stanislaus who encourages other undocumented students to further their education. At Modesto Junior College she helped establish the first group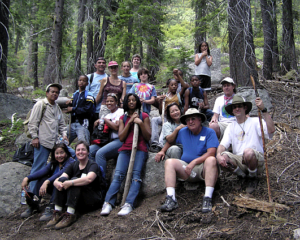 for undocumented students, Students United Reaching for Equality. Katherine Swartz is a senior at Gregori High School where she is a video journalist and producer. She was honored this year as an Outstanding Young Woman of Stanislaus County. Jocelyn Cooper, is a board member for the Modesto Peace/Life Center where she is the volunteer/community outreach coordinator for radio station KCBP, a board member for the West Modesto Community Collaborative and National Vice-President and Secretary for the National Association for the Advancement of All People. Homero Mejia was the executive director of the community organizing group Faith in Stanislaus (formerly known as Congregations Building Community) where his work focused on immigration, civic engagement, health care and other community issues. Sandy Sample has been an activist with the Modesto Peace/Life Center since 1970, has worked on anti-racism since her youth, and organized in Stanislaus County with the National Farm Worker Ministry.
Camp Peaceful Pines, on Clark Fork Rd. off Hwy. 108 in the Stanislaus National Forest, is the venue for Peace Camp and features kitchen and bathroom facilities, rustic cabins, platform tents and a special needs cabin. Depending on the number of campers, cabins may be shared.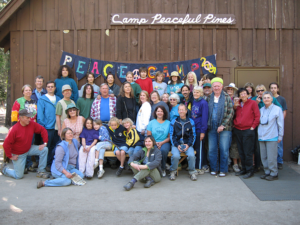 Campers share in meal preparation, cleanup, and other work.
The camp fee covers program, food and lodging for the weekend. Adults are $80 before June 5 and $85 after June 5. Young people 18 and under are $60 before June 4 and $65 after June 4. Ages 3 and under free. Minors under 18 need to be accompanied by an adult. Partial scholarships and day rates are also available. Donations for scholarships are appreciated.
The camp is open at 2:00pm with supper at 6:00pm on Friday and closes at noon after the morning workshop on Sunday. Directions and information will be provided to participants before camp. Registration and other forms are below, and at stanislausconnections.org. Campers may mail registration forms and pay by check, or may mail registration forms and pay online on Eventbrite.
There will be a wait list if Peace Camp fills up.
Information: Ken Schroeder, 209-480-4576,
FORMS: