The 38th Annual Peace Camp Registration is Closed!
If you need any assistance, please contact Megan @ 209-497-7220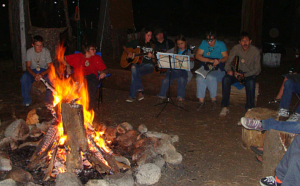 General Information
The Modesto Peace/Life Center's 38th Annual Peace Camp in the Sierras will take place on June 23-25, 2023.  
About Peace Camp
Peace Camp officially opens with supper at 6:00 pm on Friday and closes after breakfast and the morning gathering on Sunday.  The camp is run by volunteers. Campers share in meal preparation, cleanup, and other work around the camp, including assisting with recreational activities and programming.  Families and individuals of all ages are welcome.  Minors under 18 must be accompanied by an adult.
The camp fee covers the program, food, and lodging for the weekend.  Partial scholarships and day rates are also available.  Donations for scholarships are appreciated.
If you are interested in volunteering or want to be added to the Peace Camp 2023 Interest list to get the latest updates, contact Megan Parravano (information provided below).
About Camp Peaceful Pines
Camp Peaceful Pines, on Clark Fork Road off Hwy. 108 in the Stanislaus National Forest, is the venue for Peace Camp.  Camp Peaceful Pines features a kitchen/mess hall, bathroom facilities with showers, rustic cabins, and platform tents.  A cabin with special needs may be requested. Depending on the number of campers, cabins may be shared.
In 2018, the Donnell Fire burned much of the surrounding area, but the Camp itself remains intact and is still a place of beauty and tranquility surrounded by Mother Nature's continuing restoration.  Directions and other information will be provided to participants before camp.
For more information: Megan Parravano, 209-497-7220,